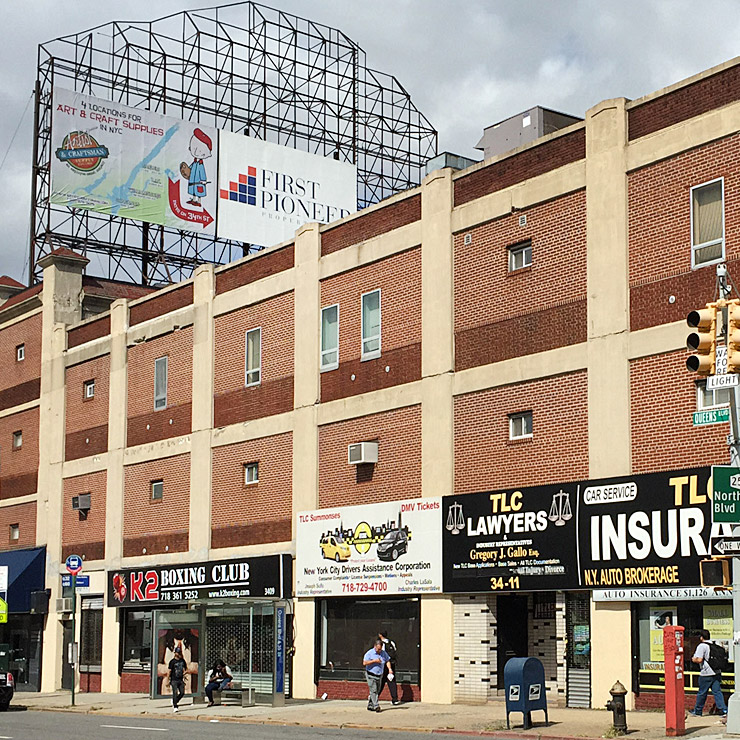 34-09 Queens Boulevard Long Island City, NY 11101
This full city block lot contains 4-story loft and office building with retail on ground floor, several warehouse properties, parking and loading docks, as well as state-of-the-art training and testing facility for NYC public services agencies. Originally built as Brayers Ice Cream factory and formerly Sean John manufacturing and shipping facility, 34-09 Queens Blvd stands at over 160,000 RSF of mixed-use premises with much development potential. Notable tenants in include City of New York, Artist & Craftsman (national art store), Altelier 4 (art shipping) and Grand View Window Fashions (manufacture).

Full City Block
100,000 sq ft floor plate
160,000 RSF / 1-4 stories
Full access from 4 city streets
Proximity to Everything
Quick Access to Manhattan
Centrally Located to All Boroughs, Upstate NY, CT and Long Island
Near: YMCA, NYSC, La Guardia College, Citibank building
Development Potential
200,000 sq ft of commercial rights
Close to 1 million sq ft community use
Long-term income hold with immense upside
Manufacturing & Warehousing
Wide Streets & Roll-up Gates
High Ceilings
Shipping, Art and Light Manufacture tenants
Industrial Lofts + Office
14,000-30,000 RSF floor plates
Passenger + Freight Elev.
Magnetic Card Entry
Queens Blvd Retail
Massive Exposure: vehicular, subway & foot traffic
200-plus ft of signage on Queens Blvd
Notable retail tenant: Artist & Craftsman

Long Island City
Located in eastern part of Long Island City, on the border with Astoria and Sunnyside, Queens, in walking distance of burgeoning office and residential development hubs of LIC – Court Square and Queens Plaza. Close proximity to La Guardia College campus and Queens Boulevard retail, and within 5-minute ride to three of NYC's largest movie studios: Silvercup, Astoria Kaufman and Broadway Stages.

34-09 Queens Boulevard, Long Island City, NY 11101, United States

Transportation
Only one block to public transportation and services on Queens Boulevard and within 5-minute car or bus ride to either Manhattan or Brooklyn. #7 train on 33rd Street (one block away) and N, Q, R subways at Queensboro Plaza. E, M, G and #7 at Court Square. Q 32 and Q60 busses to Manhattan on Queens Blvd. Great majority of Queens' bridges and tunnels are accessible within a few minutes' drive from 33-02 Skillman Ave: Midtown Tunnel and 59th Street/ Ed Koch Bridge to Manhattan; Triboro / RFK Bridge (Bronx, Westchester and upstate NY); Pulaski and Greenpoint Ave bridges to Brooklyn.